Minnesota Division
09.13.21 | Al Shoemaker
Members of the Minnesota Division recently held their state board meeting in Hutchinson.  It started off with four members stopping at the Crow River Winery and purchasing some bottles of wine. Then it was on to the meeting. The Minnesota Division received their TPA Hearing Trust donor recognition plaque for donating more than $1,000 in calendar year 2020.  The award was shown to all board members in attendance. This was presented at the 2021 National Convention; however, because Minnesota members were unable to attend the convention it was mailed to the division. The meeting included a steak dinner with all the trimmings, bread, salad, and baked potato.  Special thanks to Hutchinson members for getting the event organized.  For more information about TPA, call national headquarters at (636) 724-2227.
About the TPA Hearing Trust
Established by TPA in 1975, an independent 501(c)(3) organization, the Hearing Trust accepts tax deductible donations from TPA members, posts and divisions; nonmembers, businesses, foundations and all other legal entities.  To learn more, make a contribution to the Hearing Trust or to apply for aid, please visit tpahq.org/tpa-hearing-trust.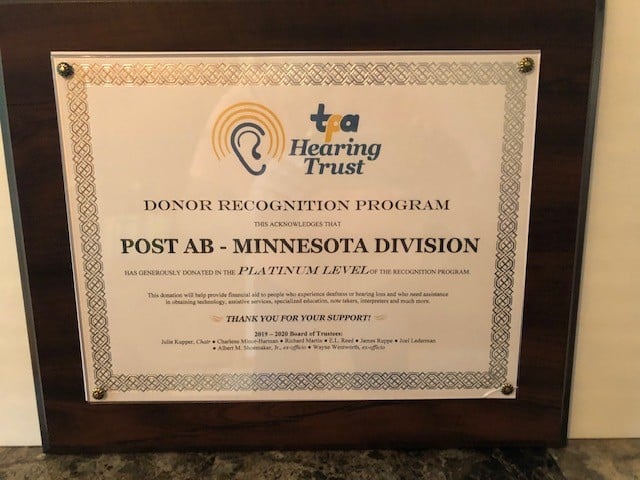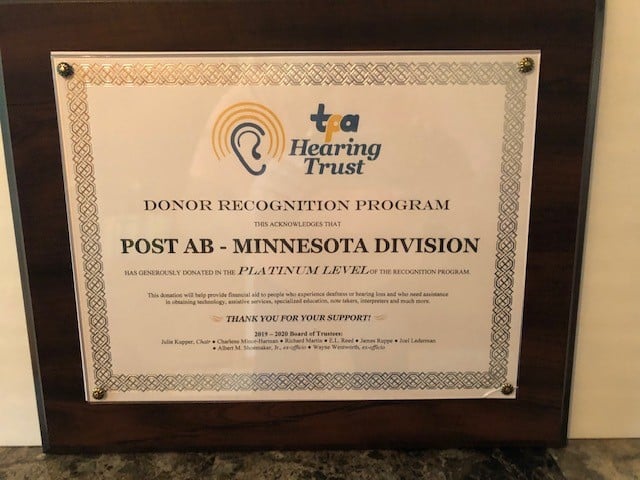 JOIN TPA
Become part of a dedicated fraternal benefit association to network, volunteer, and create life-long friendships.