Post L of the Pennsylvania Division
05.09.22 | Debbie Medley
Pennsylvania Division
Members of Post L recognized fifteen Northampton County high school students at their Annual Altruism Banquet.  The awards recognize students who have demonstrated altruism in and out of the classroom.  TPA member Cathy Stephens said, "Our organization has led the charge for societal changes that protect the health, safety, and wellbeing of children." Pat Palencar added, "The evening was reassurance that the Association's volunteerism will live on in the actions of future generations."  For more information about TPA, contact Post Secretary Patricia Palencar at [email protected] .
About the TPA Hearing Trust
Established by TPA in 1975, an independent 501(c)(3) organization, the Hearing Trust accepts tax deductible donations from TPA members, posts, divisions, nonmembers, businesses, foundations, and all other legal entities.  To learn more, make a contribution to the Hearing Trust or to apply for aid, please visit tpahq.org/tpa-hearing-trust.
About Travelers Protective Association of America
To learn more contact TPA Headquarters at (636) 724-2227.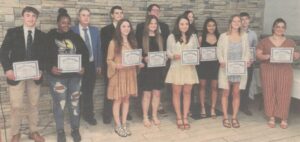 JOIN TPA
Become part of a dedicated fraternal benefit association to network, volunteer, and create life-long friendships.