Post D of the Missouri Division
09.08.22 | Debbie Medley
Missouri Division
Members of Post D donated backpacks filled with school supplies to Hurricane Deck Elementary School in Sunrise Beach.  The TPA branded backpacks were provided from the Missouri Division and supplies were secured by the Post.  Family members took time out of their vacation to help fill the backpacks.  For more information about TPA, contact Missouri State Secretary Dennis O'Neil at [email protected] or visit the website at tpahq.org.
About the TPA Hearing Trust
Established by TPA in 1975, an independent 501(c)(3) organization, the Hearing Trust accepts tax deductible donations from TPA members, posts, divisions, nonmembers, businesses, foundations, and all other legal entities.  To learn more, make a contribution to the Hearing Trust or to apply for aid, please visit tpahq.org/tpa-hearing-trust.
About Travelers Protective Association of America
To learn more contact TPA Headquarters at (636) 724-2227.
Pictured left to right:  Principal Christina Moulder, Warren Masters, Brad Cunningham, Ivie Bray, and E.L. Reed.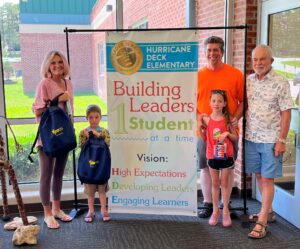 JOIN TPA
Become part of a dedicated fraternal benefit association to network, volunteer, and create life-long friendships.