Sounds of St. Louis-Virtual Event
Open Event
Thursday
Nov. 19, 2020
12:00 pm - 7:00 pm
The event will be live at 12:00 pm CST with a replay at 7:00 pm CST on Thursday, November 19, 2020
Register for the Sounds of St. Louis Virtual Event by Thursday, November 12th!
Guest speakers: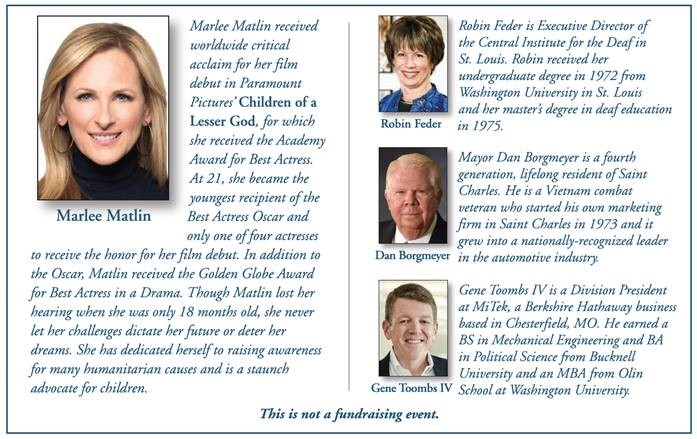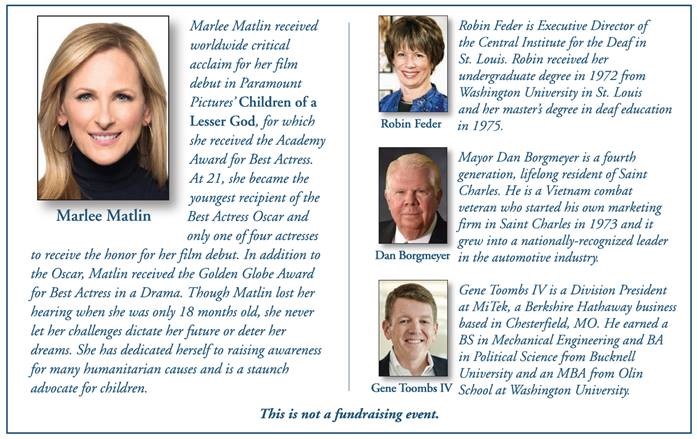 Why is hearing important? This may seem like a ridiculous question for those who can hear normally but imagine if your hearing was taken away. Imagine trying to go to school without being able to hear the teacher. Imagine crossing the street and not hearing cars and other people.  Imagine your friends calling out to you but only being able to see their lips moving.  Imagine not being able to hear your mother say, "I love you."
According to Hearing Loss Association of America (HLAA) roughly twenty percent (20%) of Americans – 48 million – experience some degree of hearing loss.  At age 65, one out of three people will be affected by hearing loss.  Approximately two to three of every 1,000 children in the United States are born with detectable hearing loss in one or both ears.  Almost fifteen percent (15%) of school-age children (ages 6-19) have some degree of hearing loss.  Enter TPA Hearing Trust.
There are many organizations that bring awareness to hearing loss, but the TPA Hearing Trust is unique.  TPA, (Travelers Protective Association) is the only fraternal benefit society domiciled in the state of Missouri.  The Hearing Trust was created by officers and members of TPA in 1975.  Feeling called to make an impact nationally, TPA canvassed the United States to determine an area of great need.  Hearing loss rose to the top as a critical issue facing many Americans that was not being addressed by other organizations.
The TPA Hearing Trust helps people seeking assistance in obtaining mechanical devices, medical or specialized treatment or specialized education as well as speech classes, note takers, interpreters, and other areas of need that were directly related to deafness or hearing loss.  Special consideration is given to individuals with the greatest need. Since the inception of the 501(c)(3) TPA Hearing Trust, we have assisted more than 5,900 individuals by awarding more than $2.2 million dollars in financial aid.
The Sounds of St. Louis Campaign significantly increases TPA Hearing Trust's ability to help more families in the St. Louis area, in Missouri, and throughout the United States. TPA's drive to give children and adults who are deaf and hard of hearing is the heart of who we are as an organization. Our generous members have banded together to ensure Americans have access to the services and equipment they need to hear.